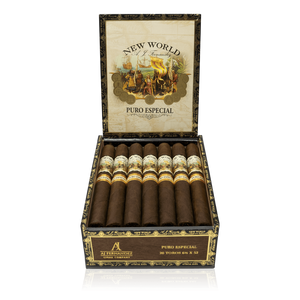 AJ Fernández New World Puro Especial
While AJ is typically known for his fuller-bodied offerings, New World Puro Especial weighs in at more of a medium body. And it's a real winner of a blend. In fact, this cigar saw limited release before but AJ liked the blend so much he decided to go national with it. You can expect this gem to be medium-bodied and perfectly balanced, with notes of nuts and a sweet finish. Order a box today and be one of the first to taste this tasty Nicaraguan puro.
New World Puro Especial has received a 93-rating, and earned a spot in the Top 25 Cigars of 2017.
---
We Also Recommend
---