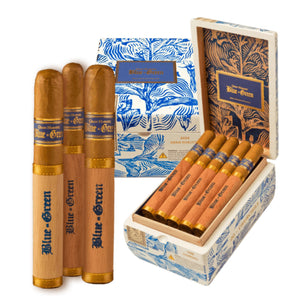 Gran Habano Blue in Green
Gran Habano Blue In Green cigars present a medium-bodied version of a Gran Habano classic blend selected from the finest vintage tobaccos. The Blue in Green, with its U.S. Connecticut Shade wrapper, blissfully embodies the rich nuances of its fillers from the exceptional sunbathed soils of Nicaragua. Blue in Green's wrapper, binder, and fillers produce a synergy of smooth, creamy, and toasted loaded flavors.

"This is one cigar that demonstrates that a mild to medium-bodied cigar does not have to be bland," says George Rico. Excellent with coffee in the morning, and a marvelous gateway cigar for newer cigar smokers who want to move into more complex cigars, add some Gran Habano Blue In Green to your Humidor. 
---
We Also Recommend
---